Property Directions.

, Use directions below .

Enjoy Hocking Hills at Black Ridge Cabin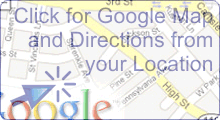 From US Route 33 in Hocking Hills area, Exit on Route 93.
From the Rt. 93 exit ramp, turn left (heading south) onto Rt. 93. Remain in left hand turn lane.
Turn left immediately onto Walhonding Rd. Follow Walhonding Road up the hill as it turns into Nickel Plate Road.
Continue on Nickel Plate Road for about 3 miles to Barker Road. Turn right onto Barker Road and you'll see a sign for Skinner Road (No Outlet) immediately ahead on left.
Follow Skinner Road up the hill to the end. Black Ridge Cabin is on the right at 16743 Skinner Road.
NOTE: You can easily drive up the hill with any vehicle, just drive carefully. Recommend four-wheel drive vehicle for inclement weather.